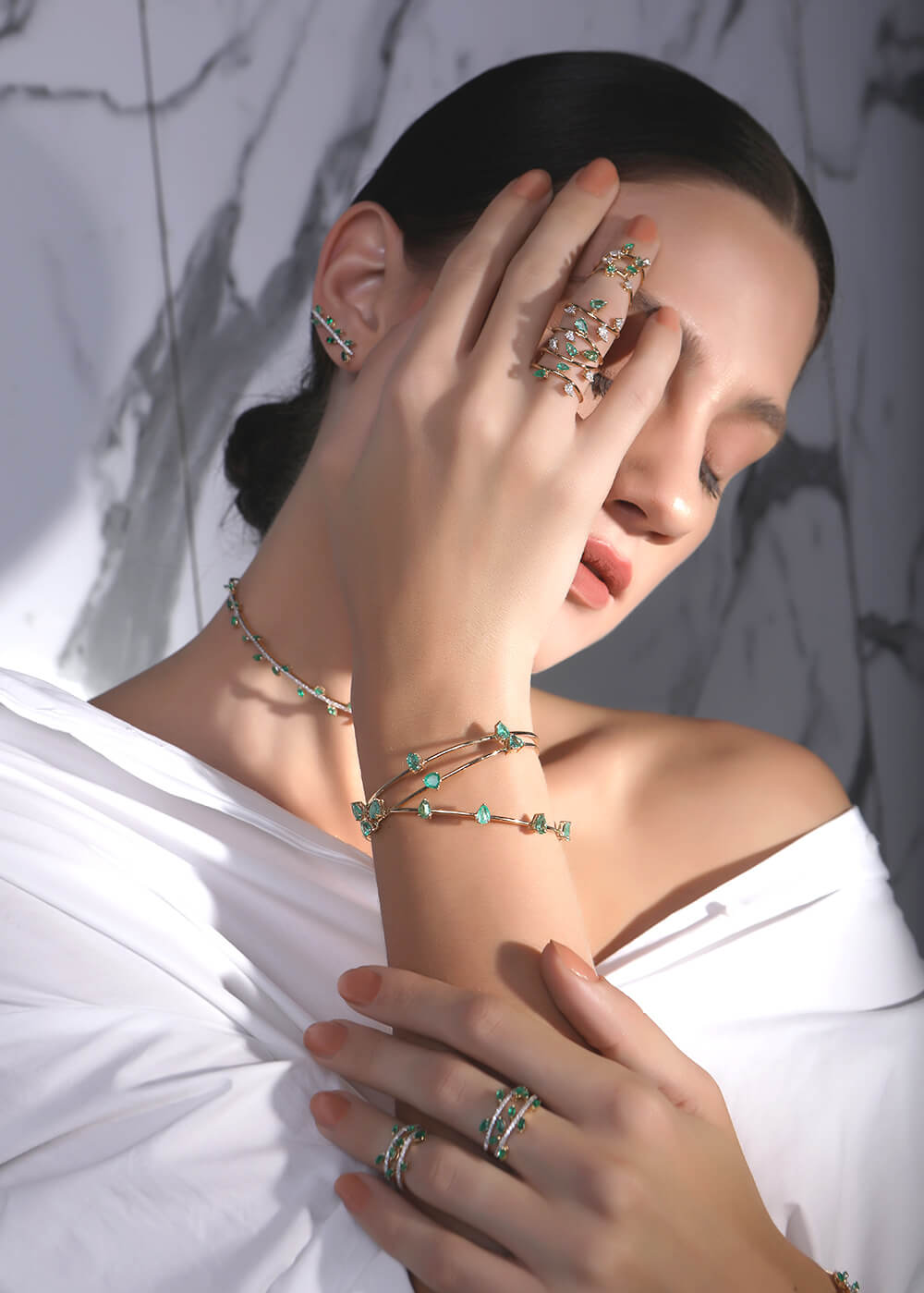 A vacation to New Zealand with snow-capped ridges, ancient glaciers, rolling hills, and copious amounts of wine. Another to Mukteshwar in the Kumaon region of Uttarakhand - with the composed Himalayas, spellbinding landscapes, an enrapturing variety of flora and fauna, and the most modest people. It was like the mountains were calling Prakshi in 2017. 
"I felt my lungs inflate with the onrush of scenery—air, mountains, trees, people. I thought, "This is what it is to be happy."
― Sylvia Plath, The Bell Jar 
The colours of nature, the calm and tranquil of sierra, there's nothing more joyous and gratifying for an artist to be around. Prakshi always sketches or paints what moves her in the art journal she carries wherever she goes. While going through her year's musings, ruminating about the invincible mountains and evergreen tree tops that only look up, rise was born. A collection inspired by the same, transformed into beautiful ear jackets, ear sliders, pendants, stackable bracelets, chokers and rings set in 18K gold. The motifs resemble rising tree tops, mighty mountains, droplets of dew, many greens and coloured gemstones representing nature at its glorious best.
I stand, the most statuesque, peeking through the clouds.
That lends their softness as my pillow when the sun in midnight drowns.
Would you climb & be my king, upon my peak to rest? Or meet,
descending from the heavens, doom's Angel of Death.
Dare to move me by your faith as the man from Galilee. Or does my
might leave you in doubt to tremble on your knees?
Bursting forth from the earthen womb, a giant granite fountain. Ancient tower
of vast unknown; I am the mighty mountain.
Against my chest, Thor strikes his hammer, thunder fills your ears. From
my shoulders, he takes aim, arching lightning spears.
Haven to monstrous legends as the abominable snow beast. Hidden in
tales of lore, on nonbelievers he does feast
Shop The Story