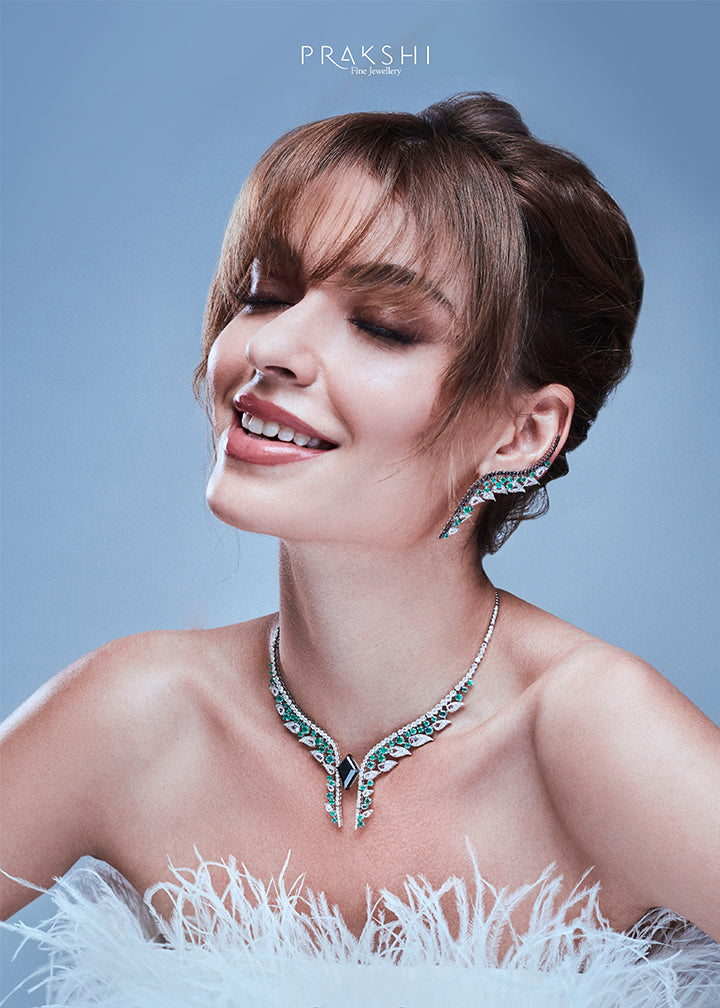 The Diamond Ear Cuffs by Prakshi has emerged as a captivating trend that has taken the world by storm. This exquisite piece of jewellery is an innovative twist to the classic ear cuff, incorporating the timeless beauty of diamonds.
In this blog, we explore the intricacies of diamond ear cuffs, exploring the different diamond shapes and highlighting the various silhouettes. Whether you're a jewelry enthusiast or a fashion-forward individual, this blog will provide valuable insights and expert knowledge to help you make informed choices when adorning your ears with these exquisite pieces.
What Makes Diamond Ear Cuffs So Special?
Diamond ear cuffs are a revolutionary fashion statement that embraces modern elegance and versatility. Contrary to popular opinion, ear cuffs don't require any extra piercings, making them accessible to everyone. They delicately hug the curves of your ears, creating a striking and glamorous look. Prakshi Fine Jewellery's diamond ear cuffs take this concept to new heights with exceptional craftsmanship, top-quality diamonds, and unparalleled attention to detail.
Earcuffs by Prakshi
Fashion enthusiasts are always on the lookout for unique and stylish accessories that can add a touch of elegance to their appearance. The Diamond Ear Cuff by Prakshi's Collection Yin Yang, CityLight, Rewind, Bloom is a magnificent choice that combines elegance and sophistication, making it the perfect fashion statement for all occasions. In this article, we will delve into the captivating world of these extraordinary ear cuffs, exploring their designs, significance, and the best ways to incorporate them into your style.
The Elegance of Yin Yang Diamond Ear Cuff   
Our Yin and Yang muse is transformed into a collection representing this balance of dark and light. The collection uses radiant colorless diamonds as Yang, rare black diamonds imitating Yin, and some unique gemstones to represent the balance of nature and harmony.
Embrace Brilliance with City Light Diamond Ear Cuff
There is something so amazing about the way one feels when they see gleaming lights in the cool of night. Each piece has its own interpretation of sparkling city lights.
Rewind Time with the Rewind Diamond Ear Cuff
This collection reminisces something that happened in the past. Inspired by the most famous and awe-inspiring monuments of the world. They are more than mere statues or pieces of art; they are symbols of triumph and tragedy. Rewind these moments in our history, they play with our minds while shrouded in mystery. Take a pause to gaze at their might and their majesty. Fast Forward and they continue to define our artistry.
Bloom Diamond Ear Cuff
A statement piece from the Bloom Collection. Conceptualized in the times of a global pandemic, the bloom is about growing, about adapting, about re-forming. Just like vines, and flora, and nature blooms through thick and thin, we too can. Bloom is a ray of hope to heal and thrive regardless of obstacles through patience, resilience, and nurturing".
Expert Tips for Choosing the Perfect Diamond Ear Cuff
Consider Your Style: Choose a diamond ear cuff that complements your personal style and enhances your facial features.
Diamond Quality: Pay attention to the diamond's cut, color, clarity, and carat weight. Prakshi Fine Jewellery guarantees the highest quality diamonds in all their pieces.
Metal Choice: Select the metal that best complements your skin tone and complements your existing jewelry collection.
Comfort and Fit: Ensure that the ear cuff fits snugly but comfortably on your ear without causing any irritation.
Occasion: Opt for a design that suits the occasion, whether it's a casual outing or a formal event.
Mix and Match: Experiment with different ear cuffs to create a unique and personalized look.
FAQs
Q: Can I wear a diamond ear cuff every day?
Absolutely! Prakshi Fine Jewellery's diamond ear cuffs are designed for everyday wear, adding a touch of elegance to any outfit.
Q: Are diamond ear cuffs suitable for non-pierced ears?
Yes, diamond ear cuffs require just one usual piercing on the ear lobe. No extra piercings are required.
Q: How do I clean my diamond ear cuff?
To maintain the brilliance of your diamond ear cuff, gently clean it with a soft brush and mild soapy water. Avoid harsh chemicals.
Q: Can I customize the design of my diamond ear cuff?
Prakshi Fine Jewellery offers customization services. An ear cuff is generally customised to fit your ear.
Q: Are diamond ear cuffs a thoughtful gift?
Absolutely! Diamond ear cuffs make a memorable and meaningful gift for your loved ones, symbolizing elegance and appreciation.
Q: Do diamond ear cuffs come in different sizes?
Yes, Prakshi Fine Jewellery offers diamond ear cuffs in various sizes to ensure a perfect fit for every individual.
Q: How do I ensure the perfect fit for my Diamond Ear Cuff?
Prakshi offers adjustable Diamond Ear Cuffs that can be gently moulded to fit your ear comfortably. Additionally, their expert team can assist in providing the perfect fit for you.
Shop The Story